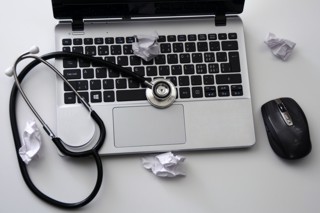 The Complete-Care managed IT services program from High Falls IT Company is designed for proactive, forward thinking small businesses, practices and agencies that are sick and tired of losing time and money with reactive IT maintenance and support.
Prevent IT Meltdowns And Keep Your Business's Network Up, Running, And Problem Free
The Complete-Care program provides comprehensive preventative maintenance, monitoring, troubleshooting, and support for an affordable, fixed-price monthly fee. We partner with you as your Virtual CIO and IT Department, allowing you to focus on your customers, clients, and business; not managing your technology.
As Complete-Care is based on a fixed monthly fee, you are not only able to better budget and forecast your annual IT costs, but you are also able to benefit from our ability to proactively address small issues before they become expensive IT headaches.
Complete-Care can save you time and money over traditional "break-fix" approaches to IT support. Unlike support technicians that charge by the hour and who may try to nickel and dime you, we don't profit when you are down. Quite simply, with the Complete-Care program, our success is aligned with yours.
Every Complete-Care program includes a Quarterly Business Review. At this review, we will provide you with a comprehensive analysis of your systems as well as highlight areas for additional cost savings, increased performance, potential security or compliance vulnerabilities, and overall network health. These meetings are another way that we help ensure that we are aligned with your business goals.
As a Complete-Care client, you are also welcome to pick up the phone or send us an email at any time to discuss your systems and receive consultation on how to make better use of technology to improve processes, reduce costs, and better meet your business objectives.
Elements of the Complete-Care program include:
24 x 7 Monitoring, Alerting, and Reporting. We monitor all of your servers, computers, laptops, network devices, as well as cloud & web services. Our Network Operations Center team monitors and responses to alerts and pre-failure indicators around the clock. Executive Summary and Health Reports are prepared and distributed monthly.
Security Assurance. The Complete-Care program includes routine weekly security scans that can uncover security holes. We establish network perimeter defenses to prevent intruders from gaining access to your systems. We continuously monitor and scan for viruses, worms, spyware and other types of malware to minimize the likelihood of these nasties from gaining a foothold in your systems. In the unlikely event one does slip through, removal and remediation is included at no additional charge. We also perform automated verification of data backup completion and routine test restores to help protect your data from loss.
Preventative Maintenance. We not only automatically apply up-to-date security patches to your computers and servers, we also identify and remediate failed or missing patches. We keep your hard-drives running in optimal condition through defragmentation and look for signs of possible pending drive failure. We also perform routine file maintenance such as removing temporary files that can slow down your system and harbor viruses, spyware, and other types of harmful malware.
Vendor Management. Modern small businesses require many different technology components these days. There are computer hardware and networking components, telephone and Internet connections, office equipment and copiers, not to mention line-of-business and cloud applications like CRM, ERP, accounting, workflow, and practice management systems. Figuring out who is responsible for what can become daunting; especially when fingers start pointing. Complete-Care allows you to avoid all of that hassle and have a single source for all of your technology needs. We obviously can't be an expert at everything out there; nobody can. But we will work with your vendors on your behalf to support your needs. We don't say "that's somebody else's problem."
Asset Management. We track your hardware and software assets so that you don't have to. We can provide detailed hardware inventory reports, perform up-to-date warranty tracking, detect authorized and un-authorized software installations for licensing purposes and perform asset scans to identify under-performing devices that may need updating and under-utilized devices that can be re-allocated or removed.
Quarterly Business Review. The Complete-Care program includes a Quarterly Business Review with your organization. These meetings are designed to ensure that systems and services are aligned with your business objectives and to address any change as they occur. During this review we will provide you with a comprehensive analysis of your current IT systems. We will review and update you on all work completed in the previous quarter and discuss the status of any project(s) currently in progress. We will also discuss existing and future IT requirements allowing you to ultimately make better informed budget and financial decisions.
At High Falls IT Company we understand that every small business is unique and may have different IT requirements. This is why we work with you to design a program that is right for your situation.
Save
Save