Learning how to create an invoice for freelance work is a critical skill to have. Not receiving payments on time or receiving payments smaller than expected are issues many freelancers face. A good invoice is often the key to preventing these types of issues.
I'm probably dating myself a little bit, but there used to be an old television commercial jingle about the best part of waking up is having coffee in your cup. The complimentary situation for many freelancers might be the best part of wrapping up a job is having money in your bank account. Producing a clear, professional looking invoice is crucial to making that happen.
Creating an invoice for freelance work can be daunting, especially if you are just getting started. However, once you know what information is required and how to lay it out, generating invoices is actually pretty simple.
What is an invoice?
An invoice is a document used to itemize products or services provided to a customer. The invoice tells the customer what was provided, how much is owed, and what the payment terms are. Invoices are usually sent to the customer after delivery of the product or service.
What should be included in a freelance work invoice?
There is no single invoice standard. However, there are a few things that freelancers and all businesses in general should include on their invoices.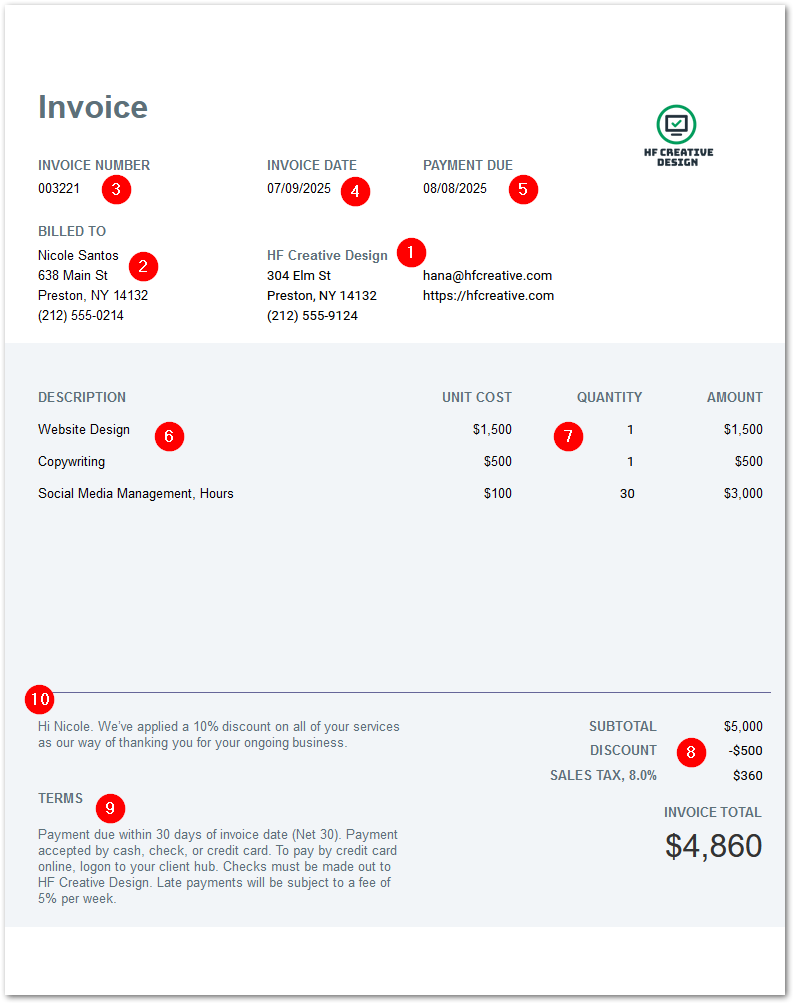 Company Name and Contact Information – Include your company name and contact information so that your customer knows how to reach you. You should include your mailing address where checks can be sent as well as your telephone and email address. You may also wish to include your website or other web address where you can receive on-line credit card payments.
Customer Contact Information – Include the name and contact information for the customer you are invoicing.
Invoice Number – You should assign a unique number to each invoice you create. This reference number establishes a paperwork trail for you and your customers' records. Many freelancers use sequential numbers such that the next invoice number is one more than the last, but you can also assign smart numbers. Just make sure they are unique.
Invoice Date – The invoice date indicates the day you officially record the work and bill the customer. The invoice date is critical because it determines the payment due date.
Payment Due Date – A payment due date will make it clear to your customer when payment is expected. Generally, the due date is 30 days following the invoice date, but you can vary this based on your company needs and your agreement with the customer. (Once payment terms have been agreed to, don't chance them before re-discussing with your customer!)
Description of Services (or Product) Provided – This is usually done in the form of a table. Each service or product that you provided should have its own row.
Amount Charged for Each Item – Include the unit cost, quantity and extended amount of each service or product delivered. For services you provided on a per unit time basis (e.g. per hour), it is common to enter the agreed upon rate (e.g. $100/hr) as the unit cost and then specify the number of time units delivered in the quantity column. For fixed fee services, enter the fee in the unit cost and specify a quantity of 1.
Total Amount Owed – This is the total of each one of the line items, minus any discount plus any taxes that need to be collected. If you are providing physical goods, you may also want to include a line for shipping or delivery fees.
Payment Terms – To increase the likelihood of being paid on time, provide clear details about payment terms and methods. Here, you should note how long your customer has to settle the invoice. "Net 30 days" is common. This means the customer has 30 days from the invoice date to complete payment. Other common terms are Net 10, Net 60, and Net 90. Also indicate the methods by which the customer can pay (e.g. cash, check, credit card).
Thank You – It's always good practice to thank your customer for their business. You can also use this area to briefly share upcoming news, promotions, or referral requests.
How can you use your invoice as a freelance marketing tool to retain customers?
Your invoice is often the last thing your customers will see after you've completed your project. Your invoice can be a great free marketing tool to encourage your customers to return soon.
Here are five ways any freelancer can use to add marketing material to their invoice:
Incentive your customers by providing a coupon or discount on future services or goods.
Demonstrate you are an industry leader by offering a free report or guide for your customers to download. You can do this compactly by including a QR Code that points to the article's download link on your website.
Upsell your services by reminding them of other items or services that you sell. For example, if you provide chiropractic services, you could remind your customers that you also offer a line of retail nutritional supplements.
Build up your social media following by asking for honest reviews of your business. To do this, include a link to a desired social media review site such as yelp or google.
Spread your brand awareness by customizing the appearance of your invoice with your business logo and colors. Most invoicing software allows you to add a logo and change font and background match your company's colors.
How should your freelance invoice be delivered?
You can, of course, print your invoice and mail it to your client. However, these days, it is common to email your invoice to the customer. Avoid sending invoices directly from applications like Google Docs/Sheets or Microsoft Word/Excel. Not all customers can open these files easily, which can then lead to frustration and delayed payments. Instead, save or export the invoice as a PDF. This type of document is universally accepted and can not be easily edited. Plus, you'll look more professional.
What should freelancers do once an invoice has been sent?
Ideally, once you've created and sent your invoice to your customer, you'll receive payment for your work and can deposit the money in your bank account. However, there are a few things you can do to help ensure that your customer will pay on time.
Following up with your customers as the invoice due date nears is a great way to refresh their memory about your outstanding invoice. One way to do this is to send a brief email or leave a short message asking how things are going and ask them if they need anything else.
Assuming there is no mention of the invoice you can then respond by asking if they received the invoice and if so, did they need anything explained regarding it.
That's it. We hope you found this information helpful. What tips or questions do you have about freelance invoicing? Let us know in the comments below!